News
Can You Do Hydrafacial Before An Event?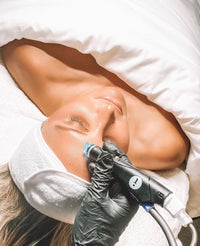 Do you have a special event coming up soon and want to look your best? If so, Hydrafacial is a 3 step 30 minute treatment that enhances skin health and produces immediate results with no social downtime. This treatment involves invigorating spa therapies combined with advanced medical technology. Learn more about Hydrafacial below to discover if it's the right option for you! 
Schedule your Hydrafacial appointment with Just Melt Med Spa in NYC by calling 1-212-447-1155 and learn more about monthly specials.
How does Hydrafacial work? 
Hydrafacial is four facial treatments combined into one. It uses a patented device to cleanse, exfoliate, gently chemically peel, vacuum suction and hydrate the skin. It has a vortex swirling action that removes dead skin cells, debris, impurities, and dirt while hydrating your skin. 
Here are the Hydrafacial steps you can expect during treatment: 
Cleansing and Exfoliation
A wand is used to cleanse and exfoliate the skin gently. During the process, dead skin cells and sebum are removed, and your pores are opened. 
Chemical Peel
The tip of the wand is used to conduct a gentle chemical peel. The non-irritating mixture contains glycolic and salicylic acids, which help loosen debris hidden deep in the pores.  
Extraction
Say goodbye to those stubborn blackheads! During this step, a device produces a strong but painless vortex vacuum suction to remove impurities and blackheads from the pores. 
Hydrating Serum
The wand is used to apply a hydrating serum that contains peptides and other beneficial nutrients. This stage of the treatment detoxifies, rejuvenates, and hydrates the skin. 
Benefits of Hydrafacial 
Benefits of Hydrafacial treatment include the following: 
Brighter skin
Builds collagen
Tightens skin
The appearance of plump, youthful skin
Offers antioxidant infusion
Reduces the appearance of wrinkles and fine lines
Rids brown spots and hyperpigmentation
Removes dead skin cells
Extracts impurities
Reduced pore size
Fast application lasting between 30 minutes to 1 hour
Works on all skin types
Treats acne-prone and oily skin
Provides consistent outcomes
Immediate results
No downtime
Learn more about the benefits of Hydrafacial. 
How often do you need to get Hydrafacial treatment? 
Typically, most people start with 2 to 4 Hydrafacials a month. However, everyone is different, so it's best to discuss the frequency of your treatments with a Hydrafacial specialist to ensure you maintain the results you desire. 
How many days should I get a Hydrafacial before an event? 
Getting a Hydrafacial before an event is an excellent choice when you want to look your best, and you are pressed for time. It's best to schedule your treatment about three to seven days before your event to ensure you experience maximum results. However, if you are attending a last-minute event, Hydrafacial produces immediate results in just 30 minutes. 
Hydrafacial is a safe, non-invasive way to cleanse, exfoliate and hydrate your skin on a regular basis. You will notice the tone, texture, and elasticity of your skin will improve with just one treatment. This treatment also produces glowing, youthful skin that turns back time and boosts your self-confidence. 
Are you ready for glowing, youthful, and beautiful skin? Our friendly staff is waiting for your call. Contact us now to make your appointment by calling 1-212-447-1155 and learn more about monthly Hydrafacial specials. 
We are conveniently located near 30 E 39th St, New York, NY 10016.