News
Emsculpt Files Infringement Lawsuit Against CoolSculpting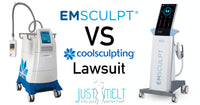 The leading manufacturer of EmSculpt for non-invasive body contouring technologies BTL Aesthetics has announced that it has filed an infringement lawsuit against Allergan, the manufacturer of CoolSculpting.
The lawsuit claims the Cooltone, a noninvasive muscle toning from CoolSculpting, and similar devices, both manufactured by Zimmer for Allergan, infringes on BTL's U.S patents.  
Statement from BTL
Filip Donner, Director of BTL stated, "The intellectual property behind Emsculpt was developed both for and with the aesthetic physician community in mind. We shall vigorously defend our intellectual property to protect the substantial investments our customers have made and to preserve the leadership position we have developed over many years of effort. The lawsuit is the first domino to fall as we enforce our patents and other intellectual property rights in the United States and in other jurisdictions." 
Why the lawsuit? 
The lawsuit is intended to prevent Allergen from importing and selling Cooltone systems in the United States
BTL is seeking an injunction and monetary damages
The lawsuit also prevents Allergan from marketing Cooltone with BLT's CoolSculpting therapy as an add on service
Amount of BTL vs Allergen Lawsuit 
The amount of the lawsuit has not been revealed but BTL is seeking monetary damages. 
Potential Outcome of Lawsuit
The potential outcome could result in Allergen paying monetary damages to BTL. In addition to monetary damages, the lawsuit can prevent Allergen from marketing or combining their Cooltone therapy with CoolSculpting therapy. 
How does the lawsuit affect CoolSculpting and Emsculpt?  
CoolSculpting and Emsculpt treatment will be protected in the lawsuit and continue to be advertised and marketed as solo body contouring treatments to consumers without any interruption.
Schedule your Emsculpt or CoolSculpting appointment at Just Melt Med Spa by calling 212-447-1155 or contact us.
How does the lawsuit affect consumers? 
Consumers can continue to receive CoolSculpting and Emsculpt treatments without interference from the lawsuit. 
The outcome of the lawsuit is pending but is expected to be in favor of BTL. Consumers will continue to have access to CoolSculpting and Emsculpt treatments during and after the lawsuit.