News
Non-Surgical Muscle Sculpting with Emsculpt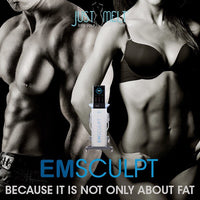 Do you want a non-surgical, non-invasive way to tone your tummy and lift the buttocks? Emsculpt is a no-pain approach to eliminating unwanted fat while building muscle in NYC offered by Just Melt Med Spa.
What is Emsculpt?  
Emsculpt is an FDA-cleared energy device that provides body contouring with no pain and no downtime. It's known for its ability to help the body build muscle mass and burn fat. 
How does Emsculpt work? 
This effective and safe treatment contracts muscles beyond what standard physical training can do. Emsculpt yields better results than physical training by enhancing fat metabolism and improving muscle tone.
Several clinical studies revealed a series of four Emsculpt treatments resulted in sculpted and defined muscles as well as fat loss.
Benefits of Emsculpt 
No pain
Non-surgical
No downtime
Builds muscle mass
Burns fat
Produces better results than working out at the gym 
Lifts the buttocks
Defines the abs
EMSCULPT Special - Get $500 Off
Please call us at 212-447-1155 if you have any questions about Emsculpt in NYC or would like to schedule your free consultation.
Is CoolSculpting the same as Emsculpt? 
No. Both treatments are non-surgical and help reduce fat but they are two separate options.
CoolSculpting uses tightening non-surgical techniques to reduce fat in targeted areas. This option uses cold temperatures to freeze and destroy fat cells which later get released naturally by the body.
Emsculpt helps remove stubborn fat and tone muscles for a more defined look by using technology to contract muscles far beyond what normal exercise can do. That is why so many of our NYC patients are choosing to combine Coolsculpting and Emsculpt treatments to lose belly fat and tone the muscles. 
What areas of the body can be treated by Emsculpt?  
Some of the body areas that can be treated with Emsculpt include:
Buttocks
Abdomen
Thighs
Triceps and upper arm area  
Risks of Emsculpt 
Emsculpt is an FDA-approved treatment that is safe for ideal candidates in NYC. Emsculpt has minimum risk, no pain, and no downtime. However, the following temporary side effects after the treatment has been experienced and patients.  
A numbing sensation in the treated area that goes away in time 
 Temporary redness in the treated area 
Results from Emsculpt Treatment
Clinical studies revealed healthy patients experienced the following results after Emsculpt treatment:  
96% patient satisfaction
 80% patients with visible lifting of the buttocks
 Fat metabolism increased up to five times
 19% reduction of fat
 16% increase in muscle mass
 1.5 inches lost in waistline circumference
The clinical studies that produced the results mentioned above involved 200 patients that received 30-minute Emsculpt treatment twice a week for two weeks, which was a total of four complete treatments. Typically, one treatment session every 3 to 6 months is required to maintain results. 
Who are ideal candidates for Emsculpt? 
Ideal candidates in NYC are those who already adhere to a healthy diet and lifestyle that includes physical activity. Emsculpt is designed to treat those already in good shape to achieve the lifting of the buttocks and the definition of muscles that cannot be achieved with diet and exercise alone. If you spend hours at the gym several days a week and still can't achieve your desired look, chances are Emsculpt will help you reach your goals!
If you want to find out if you are an ideal candidate for Emsculpt, contact us today to make an appointment in our Midtown office location.
Schedule your Emsculpt consultation
JustMelt Med Spa is currently the #1 Emsculpt practitioner in NYC! Please call us at 212-447-1155 if you have any questions about Emsculpt or would like to schedule your free consultation. We are conveniently located near Midtown at 30 East 40th Street, Suite 806, (between Madison and Park) New York, NY 10016.