News
Ozempic Statistics and Facts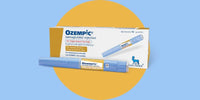 One medication that has been making significant waves in the diet industry is Ozempic. It is expected to experience impressive growth, with a projected increase in sales of 23% in 2023 according to GlobalData, Drugs Database. 
Ozempic, also known as semaglutide, is a prescription drug used to manage type 2 diabetes alongside diet and exercise. The drug, made by pharmaceutical company Novo Nordisk, helps improve blood sugar control and lowers the risk of events like heart attack or stroke. 
With projected sales reaching a staggering $7.4 billion for the year, Ozempic firmly establishes itself as the frontrunner in the weight loss market. Novo Nordisk, the company behind it, also plans to offer an oral Ozempic version by 2024.
Here are some surprising statistics and facts about the weight loss drug Ozempic.   
Ozempic prescriptions vary significantly across the United States, with the highest rates in the Midwest and the lowest in the South.
It has been noted that the drug's usage tends to be higher in states with higher obesity rates.
Experts attribute some of the regional differences to varying access to healthcare and insurance coverage.
Ozempic's sales growth is driven by its effectiveness in both diabetes management and weight loss.
The medication's popularity as a weight loss agent is growing, even though it is primarily prescribed for diabetes.
Ozempic's sales in the US are projected to increase from $7.4 billion in 2022 to $12.5 billion in 2023.
Novo Nordisk, the manufacturer, is investing heavily in marketing Ozempic to both healthcare providers and consumers.
The drug's success is reshaping the landscape of diabetes management and obesity treatment in the US.
Novo Nordisk's oral version of Ozempic demonstrated a weight loss of 15.5% on average in a clinical trial.
The oral Ozempic version of the trial involved over 1,000 adults with obesity and found that 40% of participants lost over 20% of their body weight.
Oral Ozempic also led to improvements in blood pressure, glucose control, and quality of life.
Schedule Your Virtual Ozempic Consultation Today
Call us at 212-447-1155 
Sources: 
These 15 metro areas saw biggest jumps in Ozempic use.