News
Things to look for in a quality med spa in NYC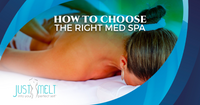 If you're looking for treatments to rejuvenate your skin and body in NYC, you're not the only one. Many New Yorkers are too; with the increasing demand for non-invasive cosmetic and body sculpting procedures such as Coolsculpting, Emsculpt, and Emsella. 
What is considered a Med Spa?
According to the American Society of Plastic Surgeons, a med spa is a combination of an aesthetic medical center and a day spa that provides non-surgical aesthetic medical services under a licensed physician's supervision. At Just Melt Med Spa, Dr. Jacqueline Fulop-Goodling, D.M.D., P.C., runs the day to day operations and oversees the patients. 
Call Just Melt Med Spa at  1-212-447-1155 or contact us to schedule your no-obligation consultation and discover the available treatment option that are rigjt for you.
Choosing the best med spa in NYC?
How do you choose and know which is the best med spa for your skin, body contouring, and beauty needs in NYC? We recommend you search for a top-quality med spa that is reputable, run by a medical practitioner, and one that has been in business for several years.
Taking the time to do your research beforehand will save you time, money, avoid the hassle, and help you find just the med spa you're looking for. 
Here are some of the things to consider when choosing a medspa in NYC.
Available treatments offered at a medspa
Some of the common treatments offered by med spas in NYC and the surrounding areas include cosmetic fillers such as Botox, Restylane, Radiesse, injectable dermal fillers, non-surgical fat reduction, laser hair removal, microdermabrasion, laser skin resurfacing, and massages.
Every med spa is different and specializes in specific procedures depending on where you go. Before visiting a med spa, it is best that you call and speak to someone to set up a complimentary appointment as well as visit their website to see what services they offer.
Choose a medspa that specializes in specific procedures and treatments. For example, some med spas focus on laser treatments and cosmetic fillers like Botox and Hydrafacial, while others specialize in body contouring procedures such as Coolsculpting and Emsculpt or skin tightening.
Quality over quantity
While some larger med spas in Manhattan have a very long list of treatment and service options, you may be better off by visiting a medspa that has a specialized treatment list. 
In addition, even though med spa treatments are not surgical, they still require training and practice to utilize the medical equipment. 
Some questions you may ask when setting up your med spa appointment include: 
Do you have any before and after photos of your patients who have had this procedure?

Are the practitioners and staff trained and licensed to use the equipment?

How many times have you performed certain treatments?

What type of training is required to use this particular piece of equipment?

How long has the supervising doctor been working at the facility and what type of training and certification do they have?
Save on subscription services
Ask if the med spa has any membership programs or subscription services. Keeping up with your beauty regimen can be expensive and feel like a full-time job. Save some money and know when it's time for your follow-up treatments. Just Melt offers subscription services, loyalty programs, and monthly memberships for an easy way for you to get your regular treatments and procedures at affordable rates. 
Not only do the med spa subscription services allow for budget-friendly monthly payments, but they also allow you to track your treatment journey and get easy reminders for when it's time for follow-ups.
Is a med spa right for you?
A med spa can be the perfect solution for anyone seeking non-surgical or minimally invasive cosmetic procedures. When choosing a med spa in New York City for your treatments, remember to check if the supervising physician is licensed and a trained doctor. 
Free Consultation
Schedule your free no-obligation consultation with one of our doctors and highly-trained technicians at Just Melt Med Spa. Please call us at  1-212-447-1155 or contact us.
We are conveniently located near 30 E 39th St, New York, NY 10016.