News
Just Melt Med Spa Valentine's Day Specials in NYC for 2022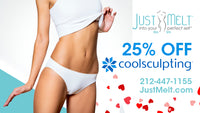 Checkout our Valentine's Day Specials for 2022. 
We welcome new and existing patients at our Midtown Med Spa with special offers for Emsculpt, CoolSculpting and Botox for Valentine's Day.  
50% OFF Emsculpt
50% OFF Emsculpt
Botox $250 per area / 25 units
CoolSculpting 25% Off per treatment 
Schedule your appointment 
Just Melt Med Spa is conveniently located in Midtown near 30 East 40th St, New York, NY 10016. Call us today to schedule your appointment.