News
CoolSculpting for Inner Thighs in NYC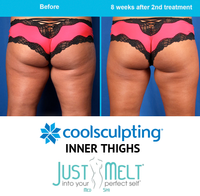 Do you have stubborn fat on your inner thighs that won't go away? If so, you aren't alone. Hormones are often the culprit to blame for weight gain located in the thigh area.
Don't lose hope yet because CoolSculpting is a non-invasive treatment in NYC for thighs that gets the job done and boosts your confidence quickly. 
Research reveals that 90% of women develop cellulite on their thighs at some point throughout their lifetime.
Chances are you have spent hours at the gym targeting your thigh muscles area but the stubborn fat just won't go away no matter what you do.
Just Melt Med Spa is offering a CoolSculpting treatment for inner thighs in NYC. CoolSculpting for the inner thighs is a non-invasive fat reduction procedure that involves no anesthesia, needles, or incisions.

Schedule your free consultation appointment today by calling 212-447-1155 or contact us today. We are conveniently located near 30 E 39th St, New York, NY 10016.  
What is CoolSculpting?     
CoolSculpting is an FDA-approved non-invasive procedure that reduces fat in targeted areas of the body. Ideal candidates are those who maintain their ideal weight but have difficulty getting rid of stubborn fat.
How does CoolSculpting work on inner thighs?

The CoolSculpting procedure is based on cryolipolysis. It uses the cellular response to a cold temperature to break down fatty tissue and remove fat cells.
The targeted fat cells die and are metabolized and processed through the lymphatic system over a period of time.
The CoolSculpting device is placed on the inner thigh area to target fat cells while at the same time leaving muscle, nerves, and tissues unaffected. 
Research and Studies
A recent study that involved 45 people who received a 60-minute CoolSculpting treatment on their inner thighs revealed the following information:
84% saw a visible fat reduction 
91% admitted they want to have a second treatment
89% recommend CoolSculpting to friends
93% were satisfied with the overall results from the first treatment
 Benefits of CoolSculpting on Inner Thighs
Prevents chafing
Boosts self-confidence
Easier to fit into clothes
No downtime or recovery process
Non-invasive 
Noticeable results 
Targeted fat reduction
No scars
Are there side effects from getting CoolSculpting on your inner thighs?
This procedure is approved by the U.S. Food and Drug Administration to treat specific areas of the body including the inner thighs. Discomfort is minimal but there is a possibility you might experience the following common side effects during your treatment session. 

Tingling
Stinging
Intense cold in the treated area
Cramping
Pulling
Keep in mind during treatment for the inner thighs in our Midtown Med Spa there might be a slight squeeze of fat to ensure maximum results. All of these side effects are temporary and go away quickly in most people. 
What to Expect After CoolSculpting Treatment on Inner Thighs
The great news is there is no recovery time! As soon as your CoolSculpting inner thighs session is over you can continue with your daily schedule and enjoy your day. Many of our NYC patients see a change after their first treatment but final results are achieved at six months.
You don't need to do any special preparation to get the CoolSculpting inner thighs procedure. The only thing you do need is to be close to your ideal weight and maintain a healthy lifestyle.
Follow-up sessions are often recommended but depend on the individual and the desired results expected from the procedure.
Are you ready to get rid of your stubborn inner thigh fat? Make it happen today!
Schedule Your Consultation
Schedule your no-obligation consultation with Just Melt Med Spa in NYC for CoolSculpting inner thighs treatment by calling 1-212-447-1155 and learn more about monthly specials.