News
CoolSculpting for Arms in NYC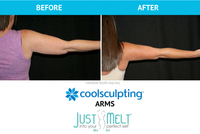 Do your upper arms flap when you wave? If your upper arms jiggle, chances are you do your best to cover it up with long sleeve tops.
Low testosterone numbers are to blame when it comes to flabby arms. When testosterone is low your muscles resist developing and your body stores more fat.
Strength training exercises are often recommended for the upper and lower arms but it doesn't always work. This is where CoolSculpting comes in to save the day. 
Just Melt Med Spa is offering a CoolSculpting treatment for arms in NYC. CoolSculpting for the arms is a non-invasive fat reduction procedure that involves no anesthesia, needles, or incisions.
What is CoolSculpting?

CoolSculpting treatment involves using controlled cooling technology to target fat cells in targeted areas of the body. It's an FDA-approved treatment that is known for treating a variety of areas on the body including the upper arms.
Schedule your free consultation appointment today by calling 212-447-1155 or contact us today. We are conveniently located near 30 E 39th St, New York, NY 10016.  
How does CoolSculpting work on the arms?

The CoolSculpting device is placed on the upper arm area and provides a cooling treatment that kills fat cells without harming the surrounding skin, nerves, and muscles. Once the cells die the body metabolizes the cells and naturally removes them from the body.
Ideal NYC Candidates for CoolSculpting Treatment for the Arms
CoolSculpting is ideal for individuals in NYC who maintain or are close to their ideal weight and have overall good health.
Those who have the following issues should avoid CoolSculpting treatment:
Paroxysmal cold hemoglobinuria
Cryoglobulinemia
Cold urticaria
Significant skin laxity
A large volume of fatty tissue in the upper arms
Ideal candidates for the Coolsculpting arm treatment in NYC are those who are in overall good health and close to their goal weight. This non-invasive procedure doesn't leave any scarring or signs of treatment behind.
Benefits of CoolSculpting
No preparation
No recovery time
Proven fat loss
Noticeable results
Non-invasive procedure
Boosts self-esteem
Clothes fit better in the upper arm area
No scars
Targeted fat reduction
Side Effects of CoolSculpting                                     

The FDA has approved this procedure to treat several areas of the body including the upper arms. Most individuals report minimal discomfort during the procedure. However, common side effects you can expect include the following:
Intense cold feeling in the targeted area
Cramping
Stinging
Tingling
Pulling
These side effects are temporary and go away on their own.
What to Expect After CoolSculpting Treatment on Arms
The doctor places the applicators on the targeted areas along with applying a gel pad to the arms. Treatment sessions usually last for 35 minutes for each arm. Some offices provide simultaneous treatment to save time.
A clinical study revealed patients who received CoolSculpting treatment on their upper arms experienced a 25% reduction.
Most individuals see results after the first session while others see maximum results around six months and sometimes longer.
CoolSculpting treatment is non-invasive, quick, and doesn't require any preparation or recovery time.
Are you ready to say goodbye to those flabby arms and long sleeve shirts?
Schedule Your Consultation
Schedule your no-obligation consultation with Just Melt Med Spa in NYC for CoolSculpting arms treatment by calling 1-212-447-1155 and to learn more about our monthly specials.