News
CoolSculpting for Lower and Upper Back Fat in NYC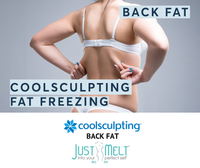 Does your back fat refuse to go away no matter how much you work out at the gym? Back fat is caused by a variety of reasons including a high sodium diet, a sedentary lifestyle, hormone changes, aging, poor sleep quality, insulin resistance, hypothyroidism, and a lack of exercise.
Pregnancy is another common cause of back fat. New moms often report they struggle with back fat after having a baby.
About 60% of mom's still carry back fat two years after giving birth.
Sometimes losing weight doesn't get rid of stubborn pockets of back fat regardless of the cause. Long days at the gym might not get rid of these pockets of stubborn fat but the good news is CoolSculpting does!
Just Melt Med Spa is offering a CoolSculpting treatment for lower and upper back fat in NYC. CoolSculpting for the lower and upper back is a non-invasive fat reduction procedure that involves no anesthesia, needles, or incisions.
What is CoolSculpting?   
CoolSculpting is an FDA-approved non-invasive procedure that targets a variety of areas including the submental and submandibular areas. The treatment was created by scientists at Harvard University and features cooling technology that kills fat cells. Ideal candidates maintain their goal weight and live a healthy lifestyle.
Your doctor will determine if CoolSculpting is for you during your consultation.
Individuals with the following ailments should not consider CoolSculpting treatment and need to consult with their physician.
Cold urticaria
Cryoglobulinemia
Paroxysmal cold hemoglobinuria
An excessive amount of fatty tissue on the back
Skin laxity
How does CoolSculpting work on back fat?
During the CoolSculpting procedure, the applicators are placed on the pockets of fat on your back. The innovative device freezes fat cells and causes them to die without causing damage to surrounding tissue. The dead fat cells are metabolized by the body and gradually eliminated. Once the fat cells are gone they don't grow back. 
Before and After Photos
Schedule your free consultation appointment today by calling 212-447-1155 or contact us today. We are conveniently located near 30 E 39th St, New York, NY 10016.  
Typically, the treatment requires most individuals to have at least two sessions or more. Usually, two to eight applicators are needed during each session to achieve maximum results.
Benefits of CoolSculpting
It's a confidence booster
Non-invasive
No scars
No preparation needed
Noticeable results
Reduces fat in the targeted area
Temporary CoolSculpting Side Effects
Most individuals don't experience side effects but those who have reported the following symptoms during their CoolSculpting treatment.
Cramping
Extreme cold in the treated area
Stinging on the surface of the skin
Tingling in the treated area
Pulling
What to Expect After CoolSculpting Treatment on Your Back
As soon as your CoolSculpting session is over you can return to your regular daily routine. You don't need to worry about downtime or an interruption to your work or daily schedule. There's a chance you might experience some of the temporary side effects and some slight redness in the treated area, but it goes away quickly. 
Most individuals start to see results about three weeks after treatment is complete. Final results are seen six months after the last treatment session. Many individuals report their clothes fit better they look great wearing form-fitting clothing.
Getting rid of back fat is easier than you think when you have CoolSculpting treatment. Are you ready to get rid of stubborn back fat?
Schedule Your Consultation
Schedule your no-obligation consultation with Just Melt Med Spa in NYC for CoolSculpting lower and upper back fat treatment in NYC by calling 1-212-447-1155 and learn more about monthly specials.