News
Get Emsculpt for the New Year in 2022 in NYC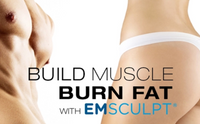 In 2021, many people in NYC still found themselves quarantined inside their homes without the access to gyms they depend on to keep them in shape.
Continue reading to find out how Emsculpt in NYC can benefit you in 2022 to help sculpt your body.
According to an WebMD, 22% of men and 47% of women said they gained weight. Typically, an extra 20 pounds on a healthy fit body doesn't seem like much until you try to fit into your jeans after being quarantined for months. 
Get your body back in 2022 and get rid of unwanted body fat with Emsculpt treatment in NYC.
Call us at 1-212-447-1155  to schedule a Free Consultation. 
It's going to take a while to lose those 20 pounds even if you hit the gym every day. If you don't want to wait months to get your pre-quarantine body back, Emsculpt is the answer for you! 
Continue reading to find out how Emsculpt can benefit you!
What is Emsculpt? 
This revolutionary body sculpting procedure is non-invasive. It tones and lifts by reducing unwanted fat and building muscle. Results reveal a highly noticeable defined abdomen without spending months at the gym. 
How does Emsculpt work?  
Emsculpt treatment works by using electromagnetic energy that directly targets a specific area of the body. The procedure forces the abdominal muscles to contract in a specific way that is not achievable through normal exercise. The contractions cause the muscle to reconstruct and melt the fat away.  
How long does it take to see results? 
Most people feel results immediately after treatment. However, every experience is different. Generally, results are revealed a couple of weeks after the last Emsculpt treatment has been completed. The results continue to get revealed for several weeks following the Emsculpt treatment. 
Benefits You Can Expect from Emsculpt for the New Year
Non-invasive – If you are afraid of invasive procedures, you don't have anything to worry about with Emsculpt. This non-invasive procedure allows you to remain awake and resting on a comfortable surface during treatment. You can even read your emails, watch a TV show, have a conversation with a friend, or read a book. Emsculpt lifts and tones thighs, abs, butt, and more without using anesthesia. 
Boosts metabolism – Clinical studies reveal that people who receive Emsculpt treatment experience a five-time increase in their fat metabolism.
Quick treatment sessions – Treatment sessions are typically 30 minutes. Most people choose to complete their treatments over a span of three weeks during their lunch break. 
Fast results – Many patients say they begin to see results from their Emsculpt treatment immediately after the first treatment session. 
Aids in injury recovery – Emsculpt treatment strengthens muscle tissue and is beneficial when used in conjunction with physical therapy. Emsculpt is also an excellent option for patients who have recovered from an injury and starting a new fitness regimen. 
No recovery time – There is no down time or preparation needed for Emsculpt treatment. Patients immediately return to their daily schedule immediately after each session. 
Start your new year off right by getting your pre-quarantine body back with Emsculpt! You don't need any preparation, it doesn't interfere with your schedule and you get to target stubborn areas on your body that workouts at the gym can't touch. 
Free Consultation
Schedule your free consultation with Emsculpt to help get rid of unwanted body fat in 2022 in NYC. 
If you are interested in learning more about Emsculpt or need more information, please call Just Melt Med Spa at 1-212-447-1155 for our monthly specials. 
We are conveniently located near 30 E 39th St, New York, NY 10016.