News
Get Coolsculpting for the New Year in 2022 in NYC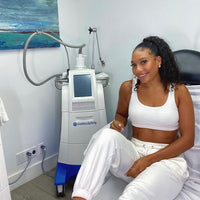 It's time to leave 2021 in the past and push forward toward the future in the New Year.
Get a new body and freeze unwanted fat with Coolsculpting in 2022. 
Coolsculpting is an FDA-cleared treatment that targets bulges of fat located under the jawline, chin, abdomen, thighs, buttocks, back, and upper arm.
Coolsculpting uses an innovative technology called cryolipolysis that freezes fat and allows your body to naturally eliminate dead cells and reduce a treated layer of fat by 25%.


Continue reading to find out how Coolsculpting treatment will benefit you this New Year! 
No Downtime
You don't need to worry about any downtime after your Coolsculpting treatment. You are able to stay awake and relaxed during treatment. Each treatment takes between 35 to 60 minutes depending on the area.Many patients decide to catch up on their favorite TV shows, answer emails, browse their social media accounts, and more. Once your treatment session is complete, you just go along with your day as planned. 
Treats Multiple Areas
Do you have stubborn fat that just won't go away no matter what you do? If so, Coolsculpting is an excellent option for getting rid of the stubborn fat located in the upper arm, back, buttocks, thighs, abdomen, chin, and jawline. Discuss the areas you prefer to target with your doctor when creating a treatment plan.
This treatment is especially helpful for those who are already-fit but have fat stored in specific areas that exercise won't help. Sometimes these special areas are inherited and almost impossible to reach unless you get Coolsculpting treatment.   
To schedule your free consultation near Midtown in NYC and to learn more about Coolsculpting, please call JustMelt MedSpa today at 212-447-1155.
Painless and Easy 
This non-invasive treatment doesn't cause any pain during the treatment session. The most common discomfort is a cool feeling in the treated area that naturally goes away. The treatment is safe and easy. It involves placing a small device on the targeted area and allowing it to do the work while you relax.  
Results within 8 to 12 Weeks
Think about how long that stubborn fat has been stuck in those specific areas of your body. Now, imagine the area is fat-free and those bulges are gone. Your vision of fewer bulges can come true within 8 to 12 weeks. Patients report visible signs of improvement sooner rather than later.  
You are in Control of Sculpting Your Body
You can take control of your body shape and decide which targeted areas need to look tighter. Common trouble areas include the stomach, things, and upper arms. Treating a few areas and creating a natural look without invasive treatment is why Coolsculpting is high in demand. 
Boosts Self-Confidence
Do you wear baggy clothing to hide specific areas of your body? If so, you can boost your confidence by treating those troubled areas with Coolsculpting. Once you start seeing results you will feel better about your shape, stand taller, and wear form-fitting clothes with confidence.  
Coolsculpting benefits you physically, emotionally, and mentally because it helps give you the shape you desire. Are you ready to take the next step? Book your Coolsculpting appointment today. 
Free Consultation
If you are interested in learning more about Coolsculpting or need more information, please call Just Melt Med Spa at 1-212-447-1155 for our monthly specials. 
We are conveniently located near 30 E 39th St, New York, NY 10016.