News
Frequently Asked Questions About Emsella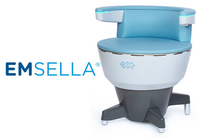 Emsella is a new non-invasive treatment of the pelvic floor muscles allowing men and women in NYC who are suffering from incontinence or urgency to address their symptoms. 
Learn more about Emsella. Here are some answers to the most common questions asked by our NYC patients about the Emsella treatment for incontinence and confidence.
How long is an Emsella treatment? 
An Emsella treatment takes 28 minutes in our Midtown med spa. Most patients receive 4-6 treatments, 2-5 days apart. Following your consultation with Dr. Jacqueline Fulop-Goodling and our trained professionals will help schedule these treatments with you.
You can arrive in any clothing you wish, as you will remain fully dressed throughout the entire Emsella procedure.
How much does Emsella Cost? 
The cost of the full Emsella treatment in NYC ranges from $2,000 to $3,000. Individual treatment sessions start from $400 per session.
Financing with low monthly payments is available.
How long is the recovery, and are there any risks or side effects?
There is no downtime for recovery with Emsella, and the treatment is virtually pain-free. Come in for your quick appointment, and then go about your day! Side effects in the treated area may include muscular pain, temporary muscle spasm, temporary joint or tendon pain, local erythema or skin redness.
Where are you located?
Just Melt Med Spa conveniently located in Midtown near 30 E 39th St, (Between Park & Madison) New York, NY 10016. 
How fast will I see results?
You may observe improvement after a single session. The results will typically continue to improve over the next few weeks. 
Following the first treatment, a difference in the affected area can be felt immediately. For best results with Emsella can be seen two to four weeks after the recommended 4-6 treatments. 
Who is an ideal candidate for Emsella?
Emsella is a great option for women of any age who desire a solution for urinary incontinence and improvement in their quality of life. Men can also benefit greatly from Emsella, treating symptoms or incontinence and improving sexual health. 

How does Emsella work?
Emsella utilizes electromagnetic energy to deliver thousands of supramaximal pelvic floor muscle contractions in a single session. These contractions re-educate the muscles of incontinent patients. All you need to do is sit upright on the Emsella chair for four to six treatments of 28 minutes per session in our Midtown med spa. 
What does the procedure feel like and is it painful?
You will experience tingling and pelvic floor muscles' contractions during the procedure. You may resume daily activities immediately after your treatment.
How do I get started?
An Emsella consultation with one of our highly-trained technicians is free. Schedule your no-obligation consultation so we can get to understand your issues, discuss the Emsella treatment options, and then decide on a treatment plan for you. Please call us at  1-212-447-1155 or contact us.
Emsella is a High-Intensity Focused Electromagnetic technology that stimulates the pelvic floor muscles through thousands of contractions. All you need to do is sit upright on the Emsella chair for four to six treatments of 28 minutes per session. 
Say goodbye to urinary leakage, urgency, and frequency, and hello to your sexual health.
Additional resources: