News
Rise of Injectable Fillers for Men in NYC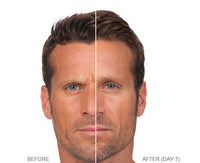 Did you know men show signs of aging sooner than a woman? This is because men have strong muscles located around the forehead and glabella area, where fine lines appear.
Although most men don't speak to friends or family about their appearance, they definitely focus on signs of aging every time they look in the mirror.
According to the American Society of Plastic Surgeons, more than 400,000 men in the United States receive botox or other injectables to enhance their appearance. 
Contact Just Melt Med Spa today or call 212-447-1155 to schedule your cosmetic injections consultation with Dr. Fulop-Goodling.
We are conveniently located near 30 East 39th Street, (Between Park and Madison) New York, NY 10016.
Dr. Fulop-Goodling says, "I am seeing increasing numbers of male patients in my Med Spa for cosmetic and dermal fillers.
Many men are returning to work in the office, and we have been very busy with our male patients.
Most are looking to stay competitive in the workplace and look more rejuvenated, revitalized, and younger." 
The most common types of dermal and cosmetic fillers men ask for in NYC include the following:
Botox
Botox is the leading injectible for men in NYC that want to eliminate or prevent signs of aging. It's a quick procedure that only takes 10 minutes and doesn't require any downtime. This easy, non-invasive procedure can even be done on your lunch break and produces immediate results. So say goodbye to the lines on your forehead and in between your eyebrows in just a few minutes with Botox injections at Just Melt Med Spa in NYC. 
Dysport
Repeated facial movements and aging are responsible for creating a multitude of fine lines around the eyes and in between the eyebrows. Dysport is an injectable that improves the look of moderate to severe lines without changing the overall look of your face. The injection is precisely placed at specific points to treat the area while still allowing facial muscles to work normally. 
Xeomin
Xeomin contains a protein purified from the bacterium Clostridium botulinum, also known as incobotulinumtoxinA, responsible for temporarily treating moderate to severe glabellar frown lines located between the eyes. It's specifically designed to act on nerve endings in muscles to prevent muscle fibers from contracting. Results can take up to 14 days to appear. 
Juvederm
Juvederm is a non-invasive wrinkle treatment that subtly replaces the skin's volume. This gel is injected into areas where moderate to severe wrinkles appear and create a smoother surface. 
Restylane and Perlane 
Restylane and Perlane belong to the same family of products. Both are a gel formulation of hyaluronic acid specially designed to reduce moderate to severe facial folds and wrinkles. This innovative formula acts like your body's own naturally produced hyaluronic acid and produces instant results. 
Belotero 
This dermal filler is specially designed to mold to unique facial contours by integrating the filler into the skin. The unique properties in Belotero create a soft and even correction in smile lines around the mouth and above the lip line. 
Radiesse
Radiesse is a volumizing filler that produces immediate results by acting as a scaffold under the skin. It provides structure while at the same time stimulates natural collagen to grow over several months, creating long-lasting results. The natural results have been clinically proven to last a year in most patients.  
Sculptra Aesthetic 
Sculptra Aesthetic replaces lost collagen and corrects shallow to deep facial folds and wrinkles. This non-invasive treatment requires a series of sessions depending on the needs of the patient. Generally, three injection sessions are needed in a span of a few months. It treats deep folds between the mouth and nose as well as chin wrinkles. Results can last two years or more. 
Consultation
Men in NYC are welcome to visit Just Melt Med Spa for a consultation and treatment plan. Get started today! 
Contact Just Melt Med Spa or call 212-447-1155 to schedule your free consultation to learn more about cosmetic and dermal fillers for men in NYC. 
We are conveniently located near 30 East 39th Street, (Between Park and Madison) New York, NY 10016.