News
Zerona Vs CoolSculpting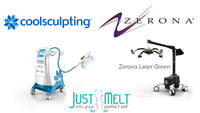 Do you want to get rid of stubborn fat that won't disappear no matter how many hours you spend at the gym? Body contouring treatments such as Zerona and CoolSculpting help you reach your body shape goals. Both of these non-invasive body treatments are FDA-insured and target stubborn fat. Find out which one is best for you! 
Zerona
The Zerona body treatment involves a 635 nanometer red light that activates chlorophyll and causes the cells to react similarly to how a plant responds to sunlight. Fat cells contain a light-sensitive enzyme called cytochrome c oxidase that gets activated by Zerona's cold laser. 
A temporary pore located in the fat cell develops to allow lipid droplets to leave the cell and enter the space in between. The droplets travel through the lymphatic system towards the liver where it gets burned off as fuel. 
Ideal candidates for Zerona are healthy adults with a healthy lifestyle who find it difficult to lose weight due to genetics, metabolism, and age. 
Areas of the Body Zerona Treats
Zerona creates an overall slimming effect by reducing fat in the following areas: 
Thighs
Neck
Arms
Waist
Chest
Back
Ankles
Hips
Benefits of Zerona Treatment
No surgery or scars
Pain-free
No downtime
Safe
Effective
Visible results within 2 weeks
Boosts self-esteem
Possible Side Effects of Zerona 
Some patients can experience the following side effects: 
Weight gain in the targeted area due to lifestyle changes 
How long do Zerona results last? 
The body will continue to eliminate fat cells for up to six months after treatment. Most patients lose 2 to 4 inches in the treated areas and the weight loss is maintained with diet and exercise. However, some patients require touch-up treatments on occasion. 
Contact Just Melt Med Spa today or call 212-447-1155 to schedule your Coolsculpting or Zerona appointment. 
CoolSculpting
The CoolSculpting treatment involves innovative technology that targets, freezes, and kills fat cells, which is a procedure known as cryolipolysis. This non-invasive contouring technology eliminates up to 20 to 25% of fat cells in the targeted area by using applicators. If you want more than one area of your body treated at a time, dual applicators can be used for optimal results.  
Ideal candidates for CoolSculpting are adults who live a healthy lifestyle. However, it's not meant to be an obesity treatment.  
Areas of the Body CoolSculpting Treats
CoolSculpting treatment targets the following areas of the body: 
Abdominals
Thighs
Sides
Lower back
Benefits of CoolSculpting
CoolSculpting produces the following benefits: 
No surgery
No scars
No recovery time
No pain
Ability to treat multiple areas
Boosts your self-confidence
Clinically proven fat loss 
Possible Side Effects 
Sometimes patients experience the following temporary side effects: 
Skin sensitivity 
Redness
Swelling
Bruising
Slight tugging feel at the treatment site when the fat roll is placed between the panels 
How long do CoolSculpting results last? 
The frozen, dead fat cells are eliminated from the body through the liver after your final treatment session. The full CoolSculpting treatment results are seen within three months.
Since the dead frozen cells are eliminated from the body for good, the results are still seen six months later.
On occasion, some patients who gain weight after treatment need follow-up appointments. 
Zerona and CoolSculpting are FDA-approved safe body contouring treatments that require no recovery time.
Zerona offers a full-body slim down, even in your ankles while CoolSculpting gets rid of fat cells for good and has long-lasting results in common troubled areas. 
Consultation
Contact Just Melt Med Spa today or call 212-447-1155 to schedule your Coolsculpting or Zerona appointment. 
We are conveniently located near 30 East 39th Street, (Between Park and Madison) New York, NY 10016.