News
Emsella: Non-Invasive Urinary Incontinence Treatment for Women in NYC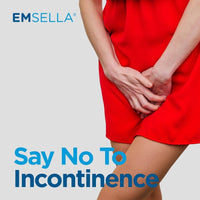 Childbirth, menopause, and body aging are the most common reasons that lead to incontinence. If you leak urine, there's a chance you are experiencing incontinence.
This word sounds a bit scary but it's just the result of weak pelvic floor muscles. The good news is there's something you can do to strengthen the muscles and gain confidence again! 
Contact Just Melt Med Spa today or call 212-447-1155 to schedule your Emsella appointment. 
What is Emsella? 
Emsella is an innovative treatment for incontinence. This non-invasive procedure improves intimate health by strengthening muscles, restoring the support of pelvic organs, and targeting tissue to help you gain more control and feel confident.  
How does Emsella work?      
Emsella is a walk-in and walk-out procedure that involves sitting on a custom platform fully clothed while technology takes care of the rest. This non-surgical treatment delivers thousands of supramaximal pelvic floor muscle contractions via electromagnetic energy. 
You sit in the center of the chair by positioning your pelvis and keeping your spine straight while your legs are perpendicularly flexed. The chair is adjusted to your height so you can rest your feet flat on the floor while your knees rest shoulder-width apart. 
When the treatment begins there are slight tingling sensations and vibrations felt by your pelvic floor muscles. The treatment gradually turns into full contractions and lasts 30 minutes.  
Most patients choose to relax by watching television, reading a magazine, or browsing on their cell phones.  
Clinical studies have revealed that 95% of patients report improved quality of life and 75% report a reduction in the use of pads. 
Types of Urinary Incontinence
There are a variety of types of urinary incontinence. The information below will help you understand the symptoms more clearly.  
Urge – The frequent intense feeling you need to urinate. 
Stress – This type of stress is related to the pressure exerted on the bladder. This usually happens when you laugh, cough, exercise, or sneeze. 
Combination – This is a mix of both symptoms mentioned above.  
Benefits of Emsella 
Restores pelvic muscle and bladder control
Non-invasive
No recovery time
You remain in the comfort of your own clothes during treatment
A session only takes 30 minutes
You get to relax and watch television during treatment
Sessions are scheduled twice a week
Most people only need six sessions
Reduction in pad use
Restored confidence
Lasts about 9 to 12 months 
Side Effects
Some patients experience the following temporary side effects: 
Skin redness in the treated area
Muscle spasm
Muscular pain
Tendon pain
Joint pain
Ideal Candidates for Emsella Treatment 
Women of any age who experience urinary incontinence are ideal candidates for Emsella treatment. Consult with your primary physician to ensure the treatment will be beneficial for you and won't interfere with any health conditions or treatments you are currently experiencing. 
Emsella treatment sessions are conducted by certified practitioners at Just Melt and tailor your treatment plan to suit your needs. Most individuals notice an improvement after their first session with optimal results a few weeks after the last treatment session.  
Are you ready to laugh, sneeze and exercise with confidence? Do you want to say goodbye to your incontinence pads? 
Schedule your appointment
Contact Just Melt Med Spa today or call 212-447-1155 to schedule your Emsella appointment. 
We are conveniently located near 30 East 39th Street, (Between Park and Madison) New York, NY 10016.