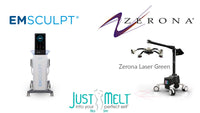 Are you fed up with trying to get rid of the Covid quarantine fat that just won't go away? You are not alone.
Maybe your were the first one in line at the gym as soon as the doors re-opened after the quarantine was lifted in NYC, or maybe not.
Surprisingly, all your workout sessions probably didn't make stubborn fat disappear as much as you hoped.
The good news is Zerona and Empsculpt treatment helps eliminate fat in targeted areas that are giving you the most trouble.
Keep reading to find out which non-surgical body contouring treatment is best for you! 
 Zerona
The Zerona treatment uses an innovative cold laser and involves a 635 nanometer red light.
This non-invasive treatment activates chlorophyll and causes the cell to create a temporary pore in the targeted fat cells. Once the pore develops, lipid droplets exit the cell and travel through the lymphatic system. The liver burns off the droplets as fuel and eliminates fat in the treated area. 
Ideal candidates for Zerona treatment are adults that eat a healthy diet and exercise regularly. 
Contact Just Melt Med Spa today or call 212-447-1155 to schedule your Zerona appointment. 
Areas Zerona Treats
Hips
Thighs
Ankles
Back
Waist
Chest
Arms
Neck
Pros of Zerona Body Contouring Treatment
FDA-approved
Proven results
Non-invasive
No scars
No downtime
Safe
Boosts self-confidence
Results are seen within 2 weeks
Cons of Zerona Body Contouring Treatment 
Possible future weight gain in targeted areas
How long do Zerona results last? 
You will begin to see results as soon as three weeks after your last treatment. However, your body will continue to eliminate fat cells for up to six months.
Some individuals that have a change in eating habits and lifestyle could gain weight in the future causing follow-up appointments for Zerona treatment. 
Emsculpt  
The Emsculpt procedure uses a high-intensity electromagnetic device that enlarges muscles and grows new muscle fibers. The device is placed on the targeted areas and creates powerful muscle contractions that strengthen and tone beyond what you can achieve at the gym. 
Ideal candidates are healthy adults who exercise regularly and maintain a healthy weight for their body type. 
Areas of the Body Emsculpt Treats
Buttocks
Abdominals
Calves
Arms
Thighs
Contact Just Melt Med Spa today or call 212-447-1155 to schedule your Emsculpt appointment. 
Benefits of Emsculpt
Alternative to the Brazilian butt lift
100 % non-invasive
No scars
Safe
FDA-approved
Boosts the metabolism
No downtime
Aids in muscle recovery
Treatment sessions only last 30 minutes 
Possible Emsculpt Side Effects
Muscle soreness in the treated area
How long do Emsculpt results last? 
Emsculpt results typically last six months to a year. Most individuals need a few follow-up sessions after a year to maintain their shape. Also, individuals who have gained weight during the year will need a follow-up session.  
Zerona and Emsculpt are both FDA-approved non-surgical body contouring treatments that produce successful results. The number of treatment sessions is determined on an individual basis and follow-up sessions are necessary for some people. 
Consultation
Contact Just Melt Med Spa today or call 212-447-1155 to schedule your Zerona or Emsculpt appointment in NYC. 
We are conveniently located near 30 East 39th Street, (Between Park and Madison) New York, NY 10016.