News
What is Emsella Urinary Incontinence Treatment?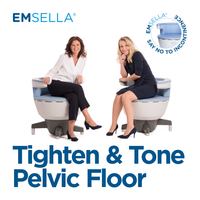 The pelvic floor weakens over time and causes urine to leak out when you cough, sneeze or laugh. Sometimes you might feel like you can't hold your urine until you make it to the restroom.
This situation causes many women to have low self-esteem, wear incontinence pads, and have an underlying feeling of wishing they could go back to normal. The truth is childbirth and menopause is also the cause of incontinence.
Many women have felt helpless until Emsella treatment came along. Find out about it now! 
What is Emsella?                                                  
You don't have to worry about surgery or scars with Emsella. This non-invasive FDA-approved treatment uses technology to strengthen muscles, target tissue and restore the support of pelvic organs.
Clinical studies showed 95% of patients reported improved quality of life while another study revealed a 75% reduction in the use of pads. 
What to Expect During an Emsella Treatment Session
You don't even need to take your clothes off during Emsella treatment. You just sit down on the customized chair and position yourself according to the direction of the professional.
Generally, you sit up straight with your feet flat on the floor and your knees bent. 
Each session only lasts 30 minutes and you can choose to relax, watch television, read a book or magazine or browse on your phone. Some patients decide to answer work emails during their treatment so they don't miss out on productivity.  
When the session begins you will feel a vibration that leads to full contractions. This is a painless treatment that is designed to strengthen the muscles and help you gain control over your incontinence issue.
Once your session is over you continue with your daily schedule as usual. 
Benefits of Emsella
Non-surgical treatment
No scars
No recover time
Only takes 30 minutes per session
Don't need to take your clothes off
Results last about 9 to 12 months
Boost in self-esteem
Side Effects from Emsella Treatment 
The following list contains possible temporary side effects: 
Muscle spasm
Skin redness
Joint pain
Tendon pain
Muscular pain
Ideal Candidates for Emsella Treatment
Ideal candidates experience the following symptoms of urinary incontinence:
Urinating while sleeping
Frequent urination
Frequent urination at night
An uncontrollable urge to urinate
Leaking urine when sneezing, laughing, exercising, or coughing 
Since the results allow you to regain control over your pelvic floor muscles and bladder, the ideal candidate is in general good health and has incontinence problems. If you are not sure Emsella is right for you, consult with a physician to confirm it will meet your needs. 
Emsella Treatment Sessions
Most individuals need six Emsella treatments to experience optimal results. Some patients notice an improvement after their first treatment while others see results a few weeks after their last session. Most sessions are scheduled twice a week to accommodate busy schedules. Discuss your schedule and required sessions during your consultation to ensure you experience optimal results. 
Consultation
Are you ready to boost your confidence and say goodbye to incontinence pads? 
Contact Just Melt Med Spa today or call 212-447-1155 to schedule your Emsella appointment. 
We are conveniently located near 30 East 39th Street, (Between Park and Madison) New York, NY 10016.