News
Top 5 Beauty Transformations of 2021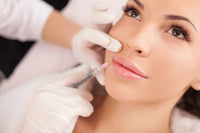 Are you ready to step out of the house and transform into a new and improved you?
It's time to feel great and never look back to those days you spent in your sweat pants on the sofa during quarantine.
Instead of dwelling on the past, focus on the present time and start looking your best today.
The following list includes the top 5 beauty transformations of 2021 for women and men in New York City. 
To schedule your consultation or book an appointmnet with Just Melt Med Spa in Midtown NYC, please call us today at 212-447-1155.
Improve Your Profile by Removing Fat From Under the Chin with Kybella
Did you catch a glimpse of your profile in the mirror and feel horrified? If you noticed excess fat under your chin, you most likely want to get rid of it quickly. Kybella is a safe injection administered by a trained professional and is designed to eliminate moderate to severe fat under the chin.
The amount of injections depends on the desired results and the amount of fat under your chin. The results are a more defined jawline and an overall improved profile that will boost your confidence.  
Get the Abs You Always Wanted with Emsculpt 
Get ready to burn fat and build muscle without spending any time at the gym. Emsculpt is an FDA-approved treatment that targets the abs. It causes excess fat to burn rapidly and muscle to build quickly. A 30-minute treatment is equivalent to doing 20,000 squats or 20,000 sit-ups at the gym.
This non-invasive treatment contours your body using intense muscle contractions to create the desired look. The number of treatment sessions varies per patient and is determined by a professional.
Remove Unwanted Fat for Good with CoolSculpting
Do you have stubborn pockets of fat that don't go away with a healthy diet and exercise? CoolSculpting eliminates stubborn fat and makes it disappear without any effort on your part.
This FDA-cleared treatment is non-invasive and designed to freeze targeted fat cells while relaxing during the session. The results appear as your body naturally metabolizes the frozen fat cells from your body. 
Enhance Lips with Fillers
As you age, you lose bone density, making the overall face look more sunken, causing the lips to roll inward and look smaller than in your earlier years.
Lip fillers such as Belotero, Juvederm, Restylane, Radiesse, and Perlane enhance lip size creating a more youthful look.
During your consultation at Just Melt Med Spa, a professional will determine the best injectables to suit your needs and help you achieve your desired look.  
Get Glowing Skin with Hydrafacial
Common signs of aging include loss of elasticity, wrinkles, fine lines, and sagging skin.
Hydrafacial is a relaxing 30-minute treatment that builds collagen, tightens skin, minimizes enlarged pores, improves the appearance of wrinkles and fine lines, extracts impurities, removes dead skin, plus cleanses, tones and hydrates.
Hydrafacial turns back time and reveals healthy, glowing, youthful-looking skin that you are proud to show off. 
Are you ready to look great and boost your self-confidence with these top five non-invasive procedures? Get started today!
Schedule Your Appointment
Contact Just Melt Med Spa today or call 212-447-1155 to schedule your appointment. 
We are conveniently located near 30 East 39th Street, (Between Park and Madison) New York, NY 10016.